We are Real Estate Sign specialists and have been dedicated to this industry since 1985. We can accommodate all sorts of requests, so please try us and we'll see what we can do!
See our broad range of Real Estate products below that include pricing for standard sizes. We also offer free standard design proofs on all these items, just send in your request!
If you already have design files ready, feel free to submit them below as well. We look forward to working with you!
Your Success Is Our Priority
Reasons for Dealing with Rising Signs
Submit your request and/or files here.
We have standard design concepts for many Agencies or you can send in your own custom design as well, we accommodate everything. Print pricing is supplied here for the 3 most common sizes:
24×32: Singles: $45/ea, 3+: $35/ea, 5+: $33/ea, 10+: $29/ea
32×30, 24×36: Singles: $50/ea, 3+: $40/ea, 6+: $38/ea, 10+: $34/ea
Our Custom Design Fee: $75 (3 edits included)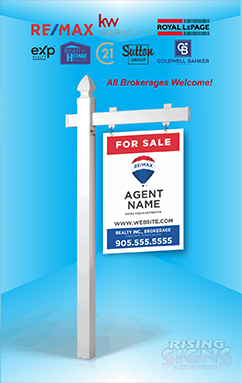 We have standard design concepts for many Agencies or you can send in your own custom design as well, we accommodate everything. Pricing is supplied here for the 2 most common types:
24×18 Inserts: 4 min: $14/ea, 6+: $12/ea 
19×24 Sandwich Boards: $75/ea, 4+: $65/ea, 10+: $59/ea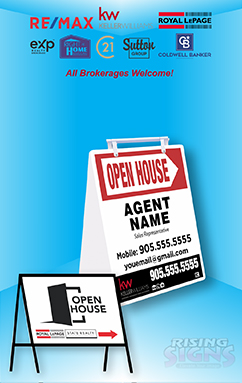 We have standard design concepts for many Agencies or you can send in your own custom design as well, we accommodate everything. Pricing is supplied here for our standard size:
24×9 Directionals: 4 min: $14/ea, 6+: $12/ea, 10+: $9/ea
We have standard design concepts for many Agencies or you can send in your own custom design as well. We also offer installation on 4×4 posts or on a building wall. Pricing is supplied here for our standard sizes:
10mm Coroplast: 4×4: $100, 4×6: $125, 4×8: $140
Post Installation (GHA): 4×4 & 4×6: $225 (v-shape, add $75), 4×8: $250 (v-shape, add $75)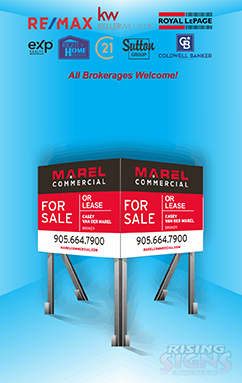 We print all rider requests the next morning from date of order, the most common sizes are priced here:
24×6/32×6: Singles: $20/ea, 2 or 3: $15/ea, 4+: $12/ea, 10+: $9/ea